I try to keep an eye on real-estate prices at the Flow. Everyone finds camp values interesting and property tax valuations are an ongoing issue. At Thanksgiving 2020 I found 15 sales dating back to mid 2017 using Zillow and info on Judy Morris' Higher Places realty pages. I know there are sales missing, this isn't a rigorous analysis. I obtained current (2020) tax roll valuations via the Essex county portal and also used some older numbers from a .PDF that I archived. I'm including the info as an image but you can access the table in a shared drive folder.
You might also look at my main web-page on Goodnow Flow real-estate, taxes and accessibility.
Reviewing Completed Sales of Goodnow Flow Lakeside Real-Estate
A couple of my claims from the past were that you can never sell for the assessed value of Flow property, and that the next year the county/town will ignore what you paid in assigning a property tax value for your new purchase. Both of those seem to be breaking down – there were sales this year at or above tax roll numbers and the current tax rolls seems to be reflecting transaction prices from the past couple of years for specific properties in the sold list.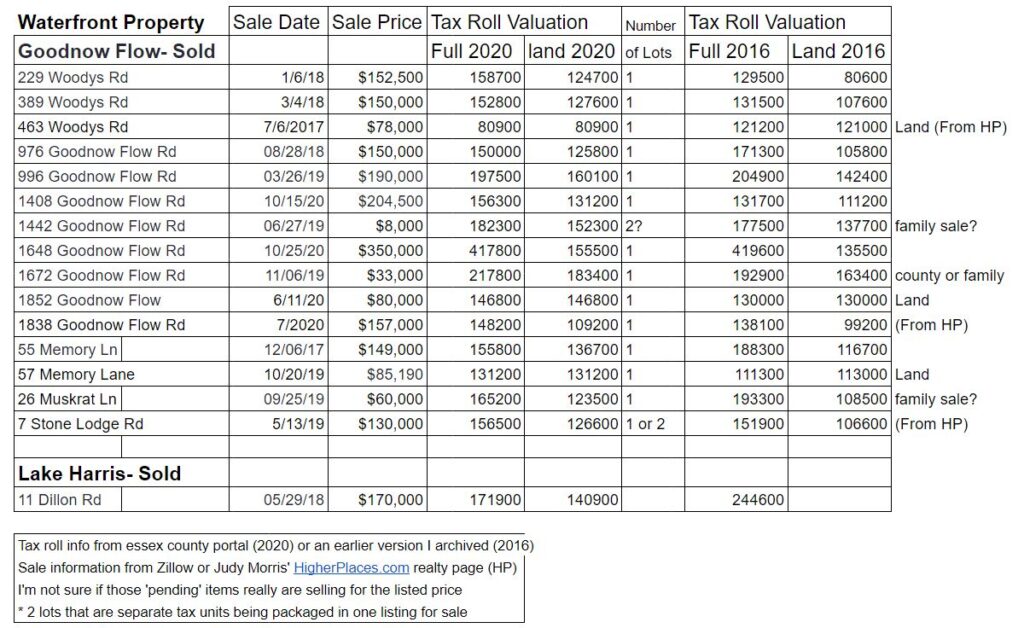 Folks are saying that the COVID pandemic is pushing an out-of the city diaspora, that could be increasing camp values. I have wondered if selling prices at the Flow are low compared to other waterfronts in the regions – and those regional numbers influence the assessment values the county generates. So one reason for making this website was to give the Flow a higher profile to nudge up demand and values.
The assessment process seems to be on a three-year cycle – I think there will be new valuations come May 2022.  I see my valuation jumped between the 2018 and 2019 September school tax bills so that appears to be when the new numbers first got used.  BTW Newcomb seems to consistently run at 100% of valuation, in contrast my home town Albany will vary that- using less and more depending on the year. I don't have tax roll numbers from 2017/18 – the ones I archived were from 2016 but you can see that a number of recent (2018) sales, immediately preceding the last major taxable valuation reset, have assessed values that dropped in the new 2019/2020 rolls, while the general experience was a painful increase in the assessments released in 2019. I'm thinking that actual sales prices are being reflected in assessed valuations for recently sold properties – but this assessment process is horribly opaque.
There are some listings that are clearly land and you can also tell this from the rolls info which lists a valuation for the land of each lot/unit and the improved value which is essentially the land plus any structures/cabins/houses. There is a guide to interpreting the tax rolls info. It looks like the valuation of a basic vacant lot (about 100 ft of shoreline) is still 80 to 100 thousand dollars. FYI one of those land lots (463 Woodys) was owned and sold by Realtor Judy Morris which does seem to confirm the market valuation. You can see that the valuations that the town/county puts on the land element of a basic lot is more like $125-$150,000. Mind – its tricky to confirm whether a sale is for just one lot or is a couple of adjacent lots, the town rolls list me as having a lot and part of a second but doesn't mention that another property is 3 combined lots. The internal lots listing of the Flow Association helps but isn't a perfect tool for understanding ownership and the way any lots have been merged.
If you are looking at the numbers 'cos you are thinking of appealing your property taxes and need comparables: start your process by reviewing material in the left-side panel over at the county real-estate portal, you can find descriptions, dates and forms for the process there.
Adirondack Vacation & 2nd Homes For Sale/Pending at the Goodnow Flow
I put together a list of properties pending or for sale, its included here as an image and also as a shared file. It's the end of season for Newcomb so the listings of the for sale items may get refreshed next spring if still for sale – the realty business still does this thing of delisting during the winter and then calling the restored item a new listing (which is pretty obvious in Zillow histories and kind of an obsolete practice). I'd guess the prices for pending units were the asking price not the actual selling price – you can't tell right now.
I saw several listings where I thought the selling might be related to the club rules changes for multiple lot fees (looked like someone was selling vacant land next to an occupied lot).