In town for the winter season at the Goodnow Flow
You get the winter season for winter recreation at the Goodnow Flow when winter is ready and it stays until its ready to go. Basically the window is November to late April. I'm meaning not just cold but useable snow and ice. In the 2019-20 season, the snow bed was still marginal at the end of January 2020. In contrast, the plows were running out of places to push snow at the end of the 2018-2019 season. ** Suggestions for improving this page are welcome – I am not a winter visitor**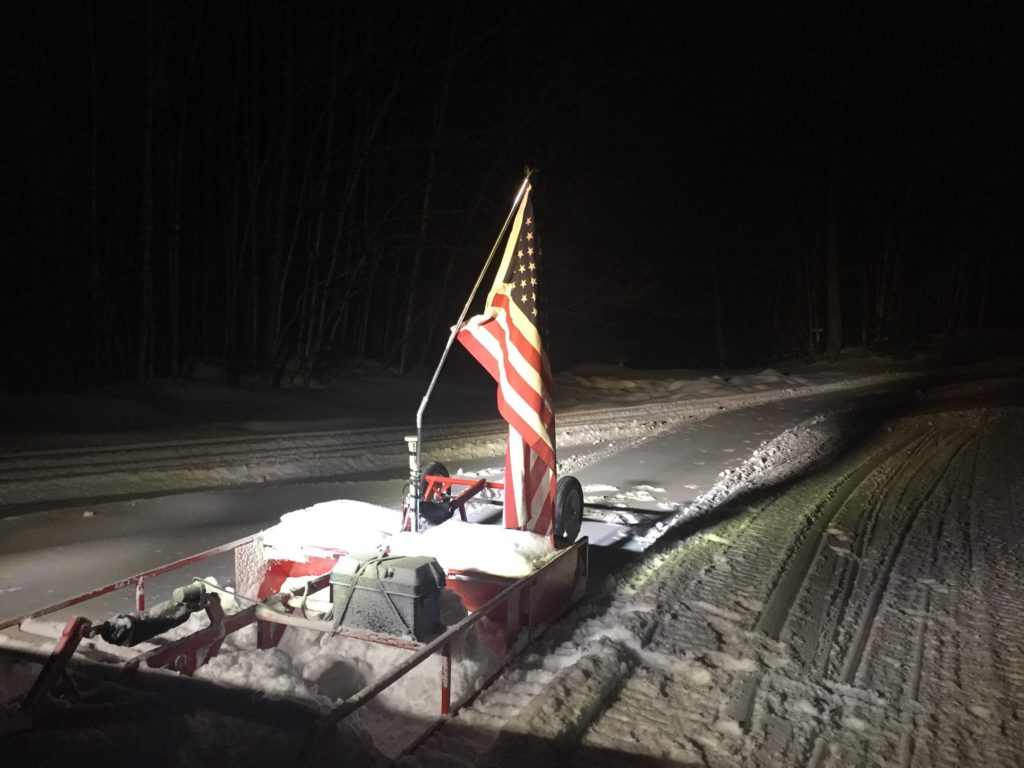 The city plows blacktop road down to and around the Goodnow Flow. One way or another much of the perimeter dirt road seems to get plowed. Currently, the road across the dam at the western end of the Goodnow Flow is not supposed to be plowed. Generally, the concept is to plow the lake/property side and leave the other side of the road for snowmobiles and cross-country skiers. The club has a groomer for trails and the road. Private side roads are not plowed unless you do it or have someone do it for you.
On ice & snow at the Goodnow Flow, Newcomb NY
Lot-owners and guests ski, snowshoe and use snowmobiles on the private lake and the trails of the leased lands. There are no official declarations that the lake is safe or unsafe for folks and snowmobiles, watch the weather and check in with social media.
Mud season in spring is probably the worst time for dirt road access- the road ruts and rocks rise and if folks hammer the roads at this time then the damage persists. Annually there is a request to keep off the dirt roads in mud season. Both the State (Essex Chain) and the Club will mud-lock gates to some areas in the period.
Winter recreation outside the Goodnow Flow: Newcomb and more
There is a small town-owned ski-slope on the way into the flow from 28N, behind the spring outlet, it seems to be open on weekends when conditions permit, there is a T-bar.  There is a 9-mile trail out at Camp Santanoni with three special winter weekends, and more trails at the Adirondack Interpretive Center. Moving further out, you have all the major ADK downhill slopes available.
Snowmobiling in Newcomb NY and at the Goodnow Flow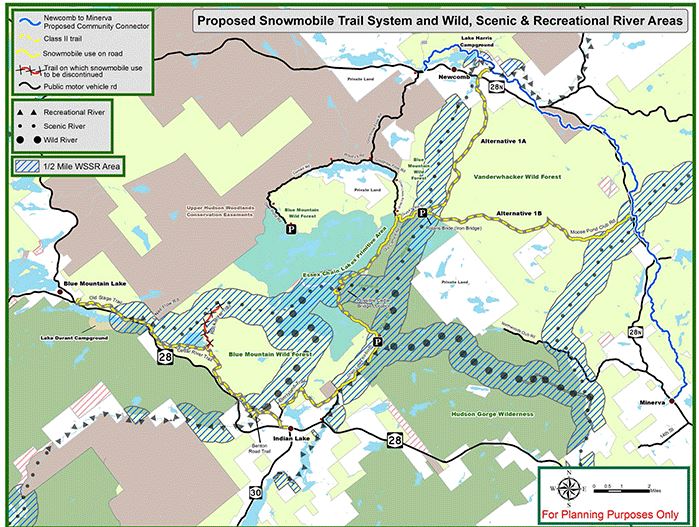 There is a Newcomb snowmobile club, I gather you can get a discount on State registration via a club membership. They have some events on lake Harris in addition to doing the usual trail grooming and maintenance things. There is also a Facebook group for snowmobilers at the Flow. The Newcomb Café/campground has 90 octane ethanol free Gas with 24/7 self-serve access using credit cards. There is an ADK snowmobiling App, that doesn't need a cell signal, and does include Newcomb but it won't cover most of the trails on the Goodnow Flow leased lands as those are largely private (there is a map of these trails but I don't have a copy). DEC maps for the Essex chain include current snowmobile routes. There are plans for expanded routes with town connectors but you need to check on the current status of lawsuits, rulings, and settlements!