The 2020 camp season is running down for my three season cabin. I visited my cabin November 10-11 overnight and 11/26 for just a few hours. This was mainly to tweak cameras to run autonomously through the winter without regular visits. I might not be at the Cabin in the winter, but I'm getting some value via my camera network.
Adding IP Cameras for Winter Viewing at the Adirondack Vacation Cabin
Partly I was visiting in November to adjust locations since I think the routes that wildlife use probably change with season – and the critters change also. A major change was to put a junk camera behind the cabin on what I figure is a route that foxes have used in prior years. This is like my installation of cameras under the cabin and boathouse but this location is exposed so I'm using an outside camera. The camera is set lower than a regular surveillance camera 'cos I want to get down towards critter eye level, rather than looking down.
Last the night camera it triggered on deer. It wasn't a great shot but you can compare the angle with another shot from a Reolink 4K camera on the back corner of the cabin. That was the position that caught the Fox-in-snow last winter. The Qcam has two date time stamps – the internal one which I can't reset and one added by the BlueIris software.
The camera is a 2K QCam and seems to be an Amcrest brand. Its an older model that I got for $20 on ebay. I was going to use it as an IR illuminator at the stream, but changed my mind, I can't get into the camera – that's mainly because the browser vendors like Google don't let you use some video options now for security reasons, and the Amcrest options for a video interface don't seem to work for me – or for a bunch of other users. However, I have the passwords and have figured the IP address and port so I can load the video stream into my video management program 'Blue iris', the only snag being that the IP address will change when my Netgear router reboots – after a long power outage. Blue Iris triggers on motion making a video recording and also sending me an email with some still images inserted.
This morning (12/1) I got an email picture shot in daylight and I wasn't sure if I was looking a squirrel or Mink – I wasn't sure if I was seeing a bushy tail or a looped back end.
I used TeamViewer to remotely access the Cabin PC setup and clip the video file. The nature of the beast is less confusing when you see it move – I'm guessing a Mink.
Equipment to run the IP Cameras at my Vacation Home on Goodnow Flow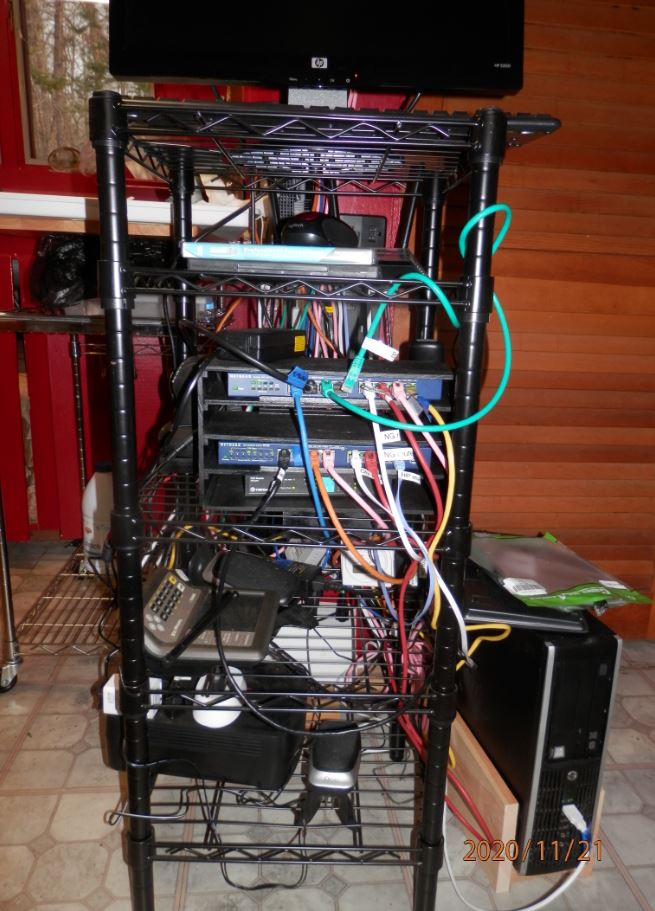 I'm managing the camera using a PC at the camp because I think I'm running out of SLIC internet upload 'bandwidth' again – I had to go to middle tier this year as I was maxing out upload for the basic option. The software emails me when its motion triggered but I'm still tweaking the settings and the camera is picture is glitching every so often triggering an artefactual send. I've greatly increased the number and resolution of my cameras since Newcomb got high speed SLIC fiber optic internet.
There are two 3.4GHz i7-6700 PCs at the cabin – I've needed more processing power as I've added more 4K cameras so the cabin gets two 2013 era PCs bought as refurbs and I have something faster for video at home that is a 2015 Vintage. I'm using a Netgear router that is jacked into the SLIC router – that way I'm using the same interface at home and in Newcomb to manage ports.
There is just the one line running to the camera – it's using the ethernet cable both for video and to carry power. I did a video on 'power over ethernet' (POE) – positioning cameras is easier with POE because you don't have to be near a power outlet. A couple of the router-switches in the equipment rack are POE-routers that will inject power into the ethernet line as well as handling the video.