Most seasonal residents come to Newcomb and the private Goodnow Flow for the recreational opportunities of winter or summer – but there are still things that are forgotten or needed, such as food, power, and gas. The basic services in Newcomb are covered but limited, consider that one of the bounties of ADK-living. In addition to the sections below, you might want to look at 'what's new in Newcomb NY', and I added a blog post on postal & shipping services at the Flow and Newcomb. I have a separate post about businesses along Newcomb's Retail Trail (that is State Route 28N!)
Gas, food, general stores in Newcomb NY 12852
Newcomb was down to zero general stores a couple of years back but now things are improving. Cloud Splitters Outfitters (8:30 am to 5 pm in the summer) by the 28N Hudson bridge is stocking some food items, ramping up selections for the summer season. A refurbished café/general store has opened, they also have a gas pump that takes credit cards 24/7. The alternatives for gas and food items are limited. Maybe Stewart shops in LongLake and, heading towards Northway exit 26, Sullivans at the 4 way stop in Olmstedville and a gas station/minimart by the firehouse at the interstate intersection in Pottersville.
Eating out at the Goodnow Flow and in the Newcomb NY area
OK, so there are no dining out options at the Flow unless someone invites you over. This is just a list, not a set of recommendations, I don't eat out due to multiple food problems.
Newcomb Cafe and campground: breakfast and lunch in Newcomb (8 am to 3 pm, closed Tuesdays & Wednesdays in season, check out of season). 518-582-8999
Lake Harris Lodge

: evening dining Thursday to Saturday 5pm to 9pm (from

Facebook

9/2023).

518-582-8333
The Owl at Twilight: Evening dining during the Memorial day to Columbus day season, daily at 5. In Olmstedville closed Tuesday and Wednesday in season. (518) 251-4696.
Scoops, Newcomb house, The Cellar in Long Lake and Turners Pizza were options but all seem to have permanently shuttered during/post the the COVID pandemic. Scoops looks to be for sale (not sure if thats the business, the Lot or both).
Medical services in Newcomb NY
There is a medical clinic (24/7 pager) with a PA in Newcomb but you are probably an hour away by car from significant medical centers. There are local fire and EMS services and you have 911 service if you have a dial tone BUT check & configure local 911 on internet or cell phones before any emergency – this is where copper wire phone service is a plus! I do note that when there was a fire at a cabin a 911 cell phone call hooked up to a call center that wasn't what you'd consider the closest just because of what cell towers the phone reached. The local EMS seems to have effective ties into regional Medivac systems. I made the hospital list by searching ERs, not that driving over an hour to an ER is a recommended response to medical emergencies! I know several folks based in Newcomb use medical services in Glens Falls. If I needed a level I trauma center then I probably would be shipped to Albany Med in Albany NY (the alternative seems to be Burlington VT), the chopper goes over my Albany home if they are really rushing.
Phone and internet options at Newcomb's Goodnow Flow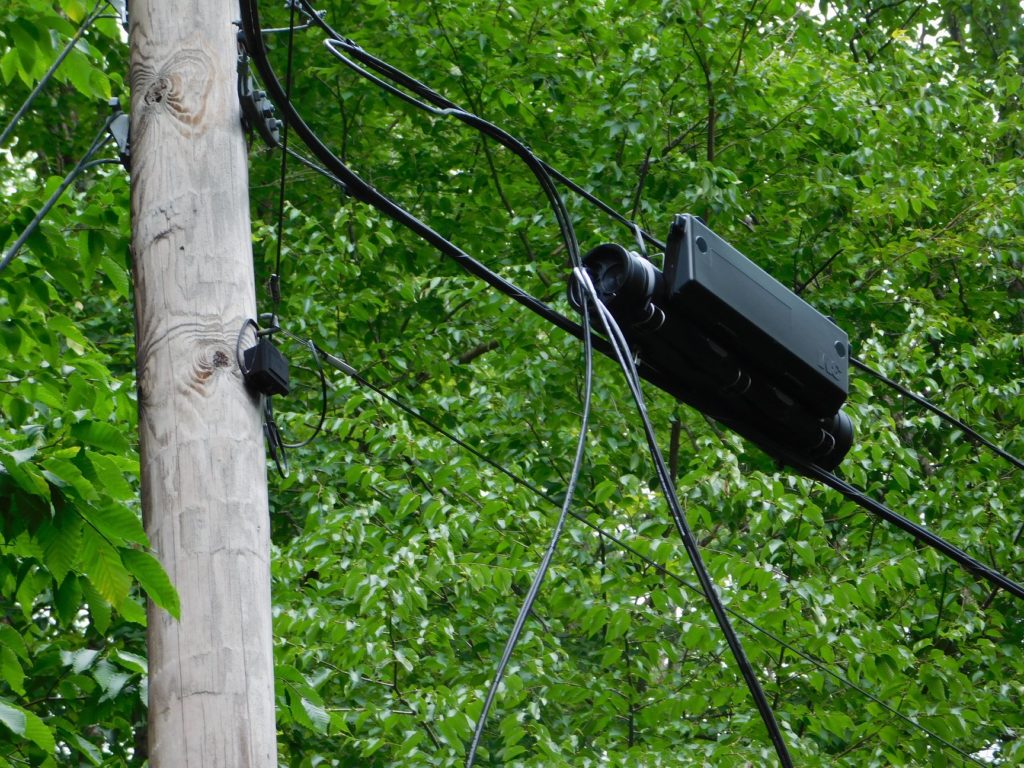 A significant event for some of us was the arrival of fiberoptic internet and TV/telephone service from SLIC Network Solutions with the State underwriting the fiber-installation. For others that may mark the end of tranquility but it is now quite feasible to work online at the Flow with a fast feed (25Mb up- & download standard). You do have an alternative in Frontier copper wires for phone and DSL. Both SLIC and Frontier offer season plans but I haven't looked at them. I don't think anyone has over-the-air TV service at the Flow, satellite had been the go-to option before fiber optic cable arrived.
Most folks seem to have gone with basic SLIC internet for $50 a month, using cell phone WiFi for a phone. I'm using an OBI VOIP box and internet streaming for entertainment. SLIC connects their routers to a UPS and this winter their services have been on while power is out. My VOIP device/service is programmed with my location in Newcomb for 911 service. That gets more complicated if you are using a cell phone on Wifi – it may have your home address as the location when it's not on the phone cellular network. Not to be preachy, but cell/internet 911 is something to review, configure and understand before any emergency when you may be freaking out!
Verizon has a 4G signal emanating from antennae on the water tower on 28N in Newcomb and ATT has put a tower at the same location. However, the cell signal around the lake is spotty with hills casting radio-shadows. I have Tracfone running a SIM that links to the Verizon network and I have no signal at my cabin. I hear my phone pinging with updates and texts when I leave the Flow and am a couple of miles down Goodnow Flow road heading towards 28N. Don't believe the coverage you see shown on maps by Verizon and others.
NYSEG Electric power service at the Goodnow Flow and Newcomb NY
The electrical service provided by NYSEG is pretty rough at the Flow. It tends to go out in storms, we had several six-hour and more outages at the end of 2019. My weather station was offline for 16 hours at the end of 2019. The power goes out for the whole town at times, not just the Flow. Quite why is a mystery: it's not just falling trees since the SLIC internet service, generally using the same poles and powered off a SLIC-provided UPS in home, has been holding up better than NYSEG power. I have cleared the scrub trees growing up under the powerline by my driveway.
You can report an outage online or at 800.572.1131. You can see maps for power outage areas, but they often are not accurate. You can sign up for outage alerts but they are so far from realtime that they are not much use if you are actually at the Flow.
NYSEG does not read the meter every month, especially not in winter so you are billed on estimates unless you read your NYSEG meter and report it around the 10th to the 14th of the month. My basic NYSEG bill (outside of the summer) would likely be less than $25/month but my IP cameras and the computers push up my usage. NYSEG does have a seasonal option but I haven't looked at it.
Having a portable generator is typical, propane-fueled whole house Generac units are getting more common for the newer properties. I have virtually everything on surge protectors and have multiple UPS units that are more to coast PCs through dips and 10-second outages than to survive multi-hour blackouts. I do have the VOIP phone set-up and router and a long duration UPS so as to keep a dial-tone.
Campsites, lodging, & rentals in Newcomb NY, close by the Goodnow Flow
Folks considering buying at the Flow may want to try out the Newcomb locale by first renting or camping. These are also options if you currently own and have guest overflow! There is no rental culture at the Goodnow Flow itself because the association-bylaws prevent visitors from using the community-owned private lake and the leased lands unless accompanied by a club member.